Wait, this cover is technically a spoiler! Oh well. It's not that much of a surprise that Pippa grows up, right?
This chapter also features a really, really cool house that I could not even come close to building. It's by Bangsain - search "Moonlight Falls Huckleberry Lane Alchemists House" on MS3B!
|
Part One
|
Part Two
|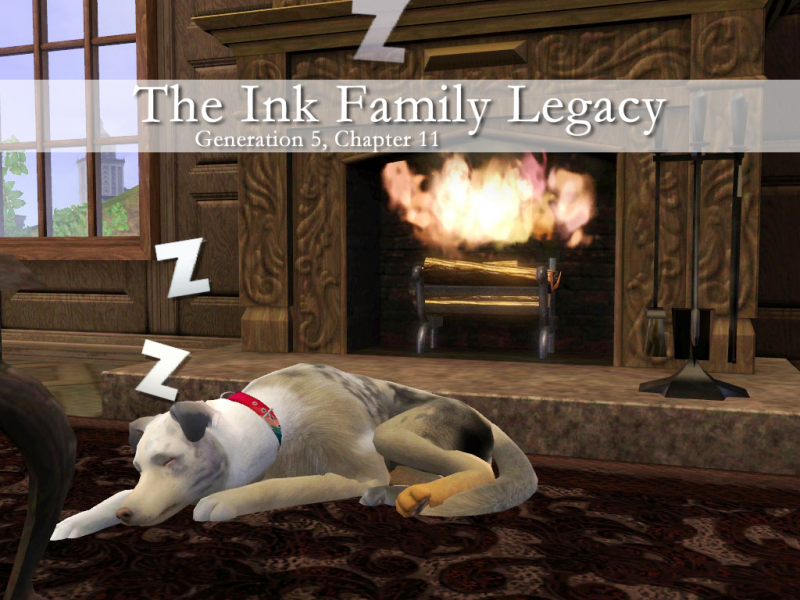 --- --- --- --- ---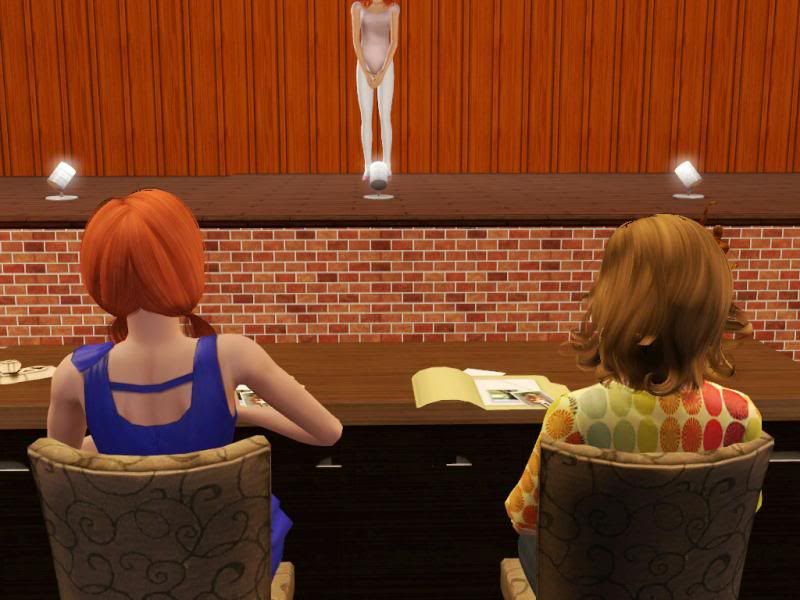 "Okay - September Ink, right?"
"Y-yeah?"
"You're auditioning for the main role, correct?"
"Um, yes."
"Wow, you even came in makeup! That's dedication. Okay we'll start the music - whenever you're ready!"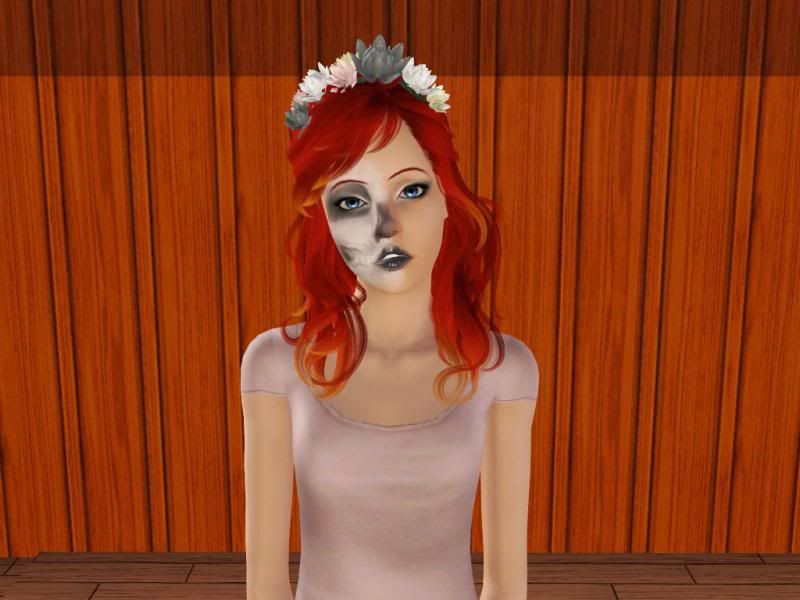 To tell the truth, Temmy almost didn't show up for the audition, but at the last second Sophie had wrestled her into the bathroom and painted over half her face. She wasn't even sure if this was the makeup they were going to use! Sophie said she just imitated the style of the professional version.
Now that Sophia had worked so hard, September had to at least try, right? The music started, she took a deep breath, and away she went.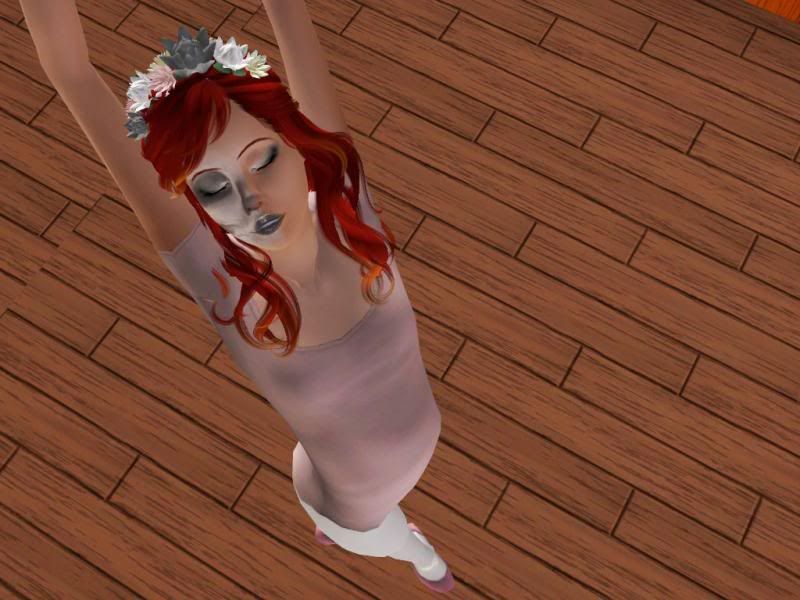 She rarely thought during dance.
Or, if she did, she didn't remember. September practiced so much that it was all muscle memory - a pirouette here, a leap there. Spin once, twice, thrice, and left. Once, twice, thrice, and back.
The ballet itself was a little confusing to her, even after watching it several times. Her character has died young and is given the chance to save herself by correcting her past misdeeds, but ends up falling prey to the same temptations and ultimately fails. Not exactly uplifting.
Even if she didn't understand it, she hoped she could at least portray it. She wanted to give off the appearance of the character, not 'I'm September and what is this'.
The music came to an end just as she knew it would. Not too long ago she would have stumbled at the end, unprepared, but she had fixed that (mostly).
"Um, thank you." she murmured. "I hope that was okay."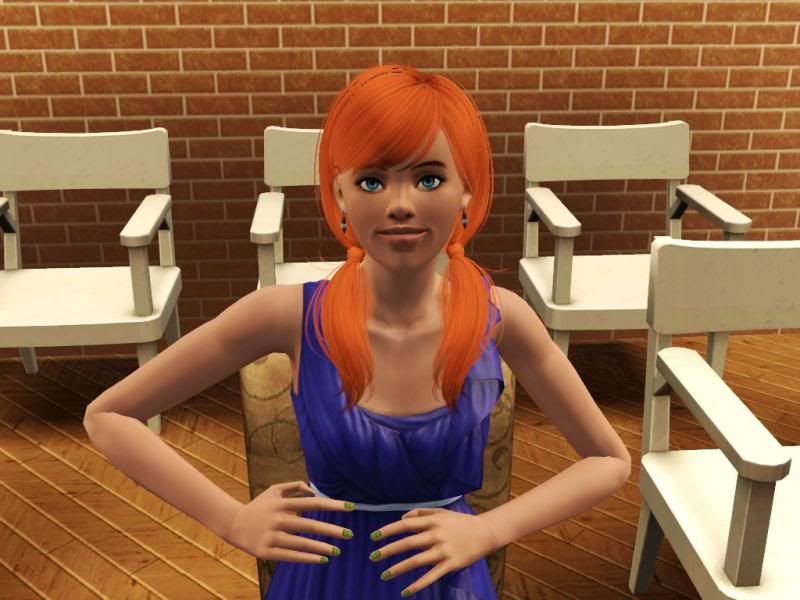 The look on the judges' face indicated that it was more than okay!
"Kiddo, you are
definitely
getting a call back."
--- --- ---
Now that Zoey was older, Abel and Kira trusted her to walk Pippa from time to time. St. Claire was fairly safe, Zoey was a smart girl, and Pippa was a big dog, so she was probably fine.
I mean, it didn't stop her parents and siblings from following her from time to time, but whatever.
But on one such occasion when she was truly on her own, Zoey decided to take a short detour. She knew Abel wasn't expecting her home for another hour or so anyway.
The neighborhood was always pretty and very interesting! There were plenty of rocks to turn over and flowers to pick. Sometimes the flowers Zoey picked turned into butterflies, which still scared her every time, but she didn't do that so much on accident anymore. It'd be nice if she could do it on purpose though!
Today wasn't a day for collecting, though. Pippa seemed uninterested in her usual pursuits and instead appeared to be following an interesting scent trail, taking Zoey along for the ride!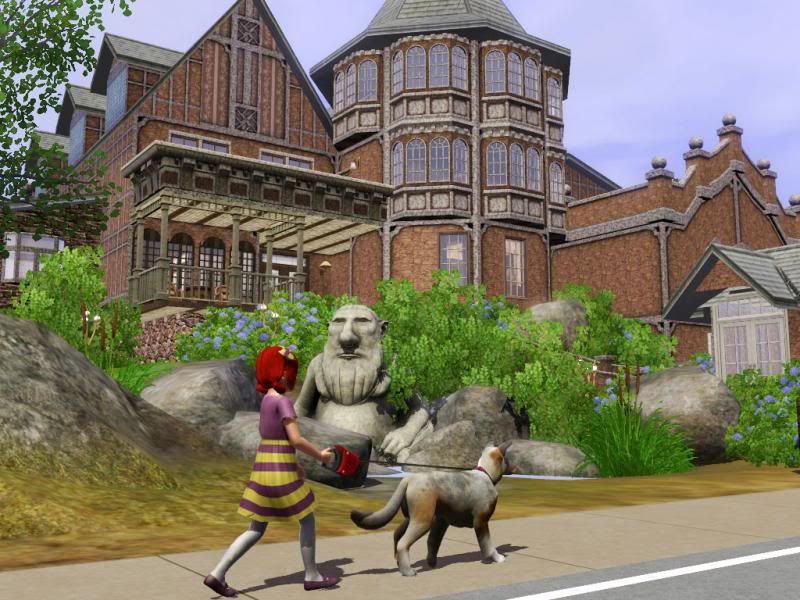 They twisted down the roadway into a new neighborhood, ending up next to a house that Zoey had never seen before. It sure looked impressive!
Then, faintly, Zoey heard her name.
"Hey! Zoey!"
"Zoey Ink, right? Hey, come over here~!"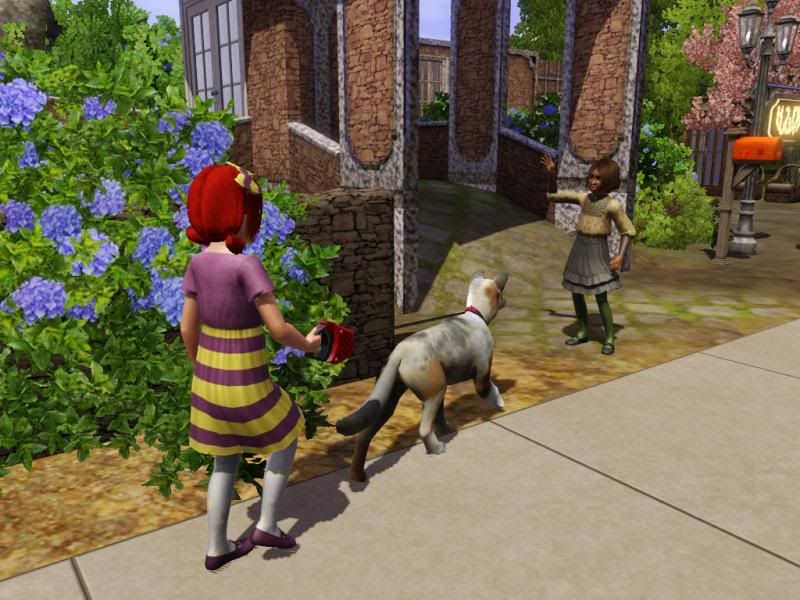 Pippa was more than happy to tug Zoey along towards the girl, who looked
very
familiar to her. Was she a classmate...?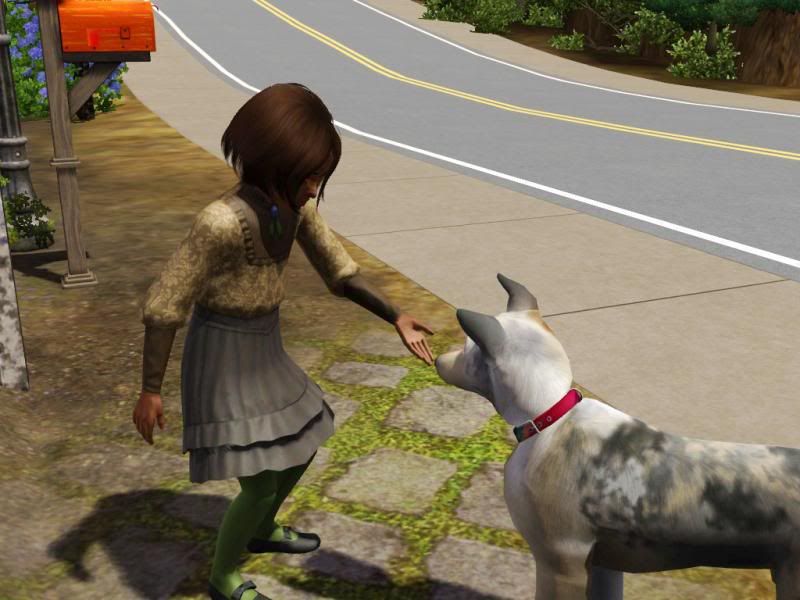 Pippa barked and slobbered all over the girl's hands as she giggled.
"Heh heh, good doggy! Here, have a treat."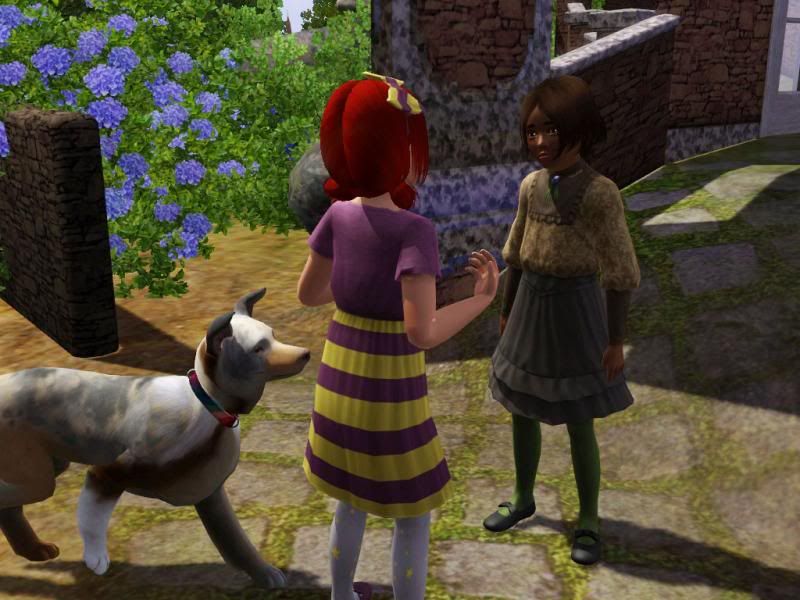 "Um, sorry about Pippa." Zoey said, tugging her dog away by the collar. "She's a little too friendly sometimes."
"No, she's a good dog! I'm jealous, Gramps won't let me let us have a dog." The girl paused, noting Zoey's perplexed look. "You remember me, right? I'm Ruth! We've had art together since kindergarten."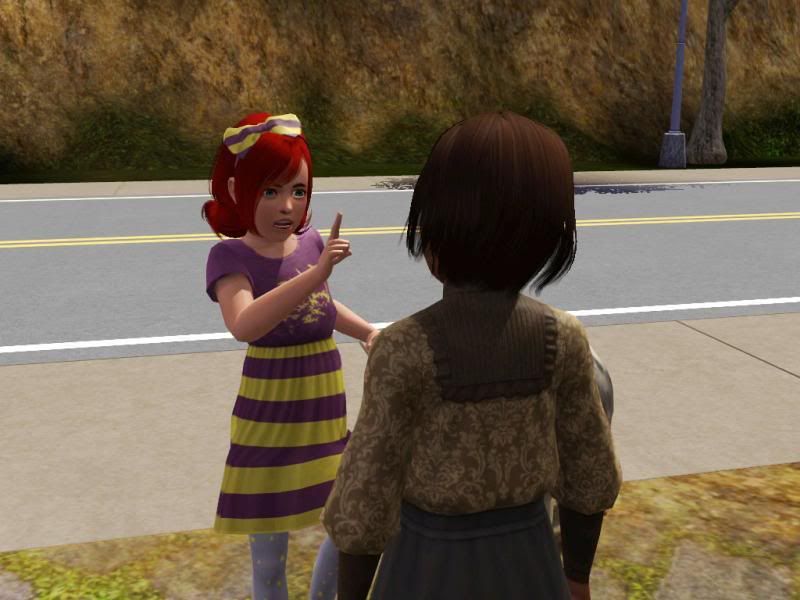 "R-right! No, I totally knew that." Zoey lied. "I was just, um, admiring your house. I didn't think it would look like this! It must be really cool on the inside."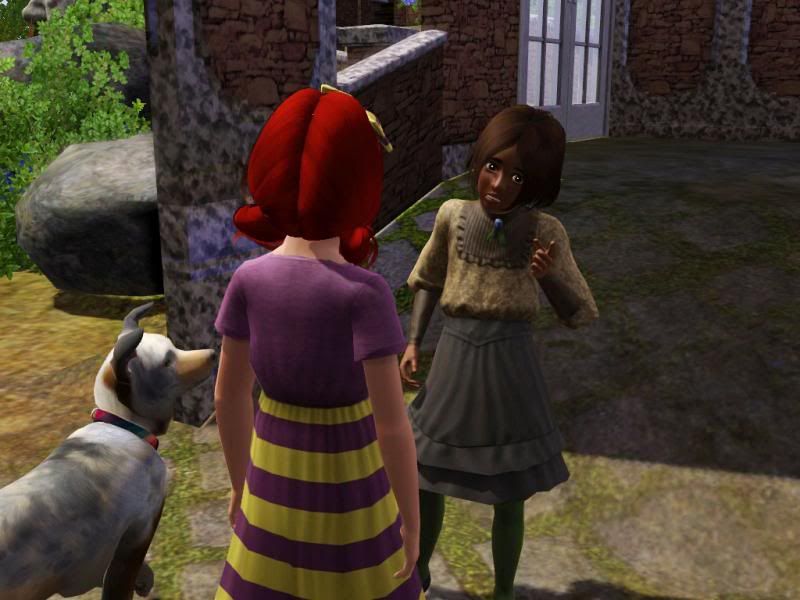 "Oh, would you like to come in?" Ruth offered. "We have some left over tea and cookies from earlier! Pippa can come in too if she doesn't chew on anything."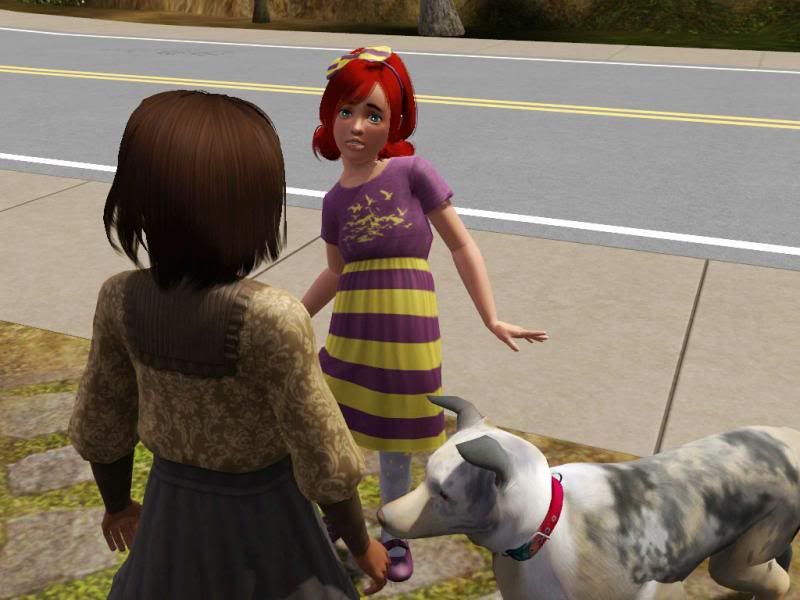 "Okay! That sounds like fun~!"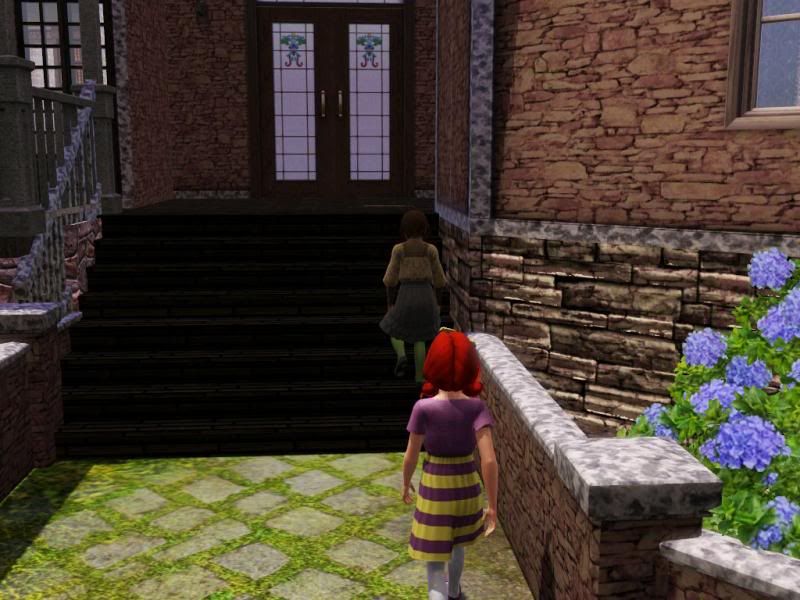 Zoey knew that the house had to be big, but she had no idea how big until she stepped inside. There were hallways leading everywhere, half opened doors belaying large rooms on the other side.
"I know Gramps is around here somewhere..." Ruth mused. "I gotta introduce you first. He's not big on strangers. But you're my friend, so it's okay!"
"Uh...if you say so..."
"Oh, you know what? I bet he's in the study! Here, follow me over to the balcony!"
Zoey nodded absentmindedly, dazed at the proportions of the house. So many books! She bet that Alex would be happy in a place like this.
"Hey Gramps! Graaaaaaamps."
"Ruth, for the last time, at least address me as Grandfather."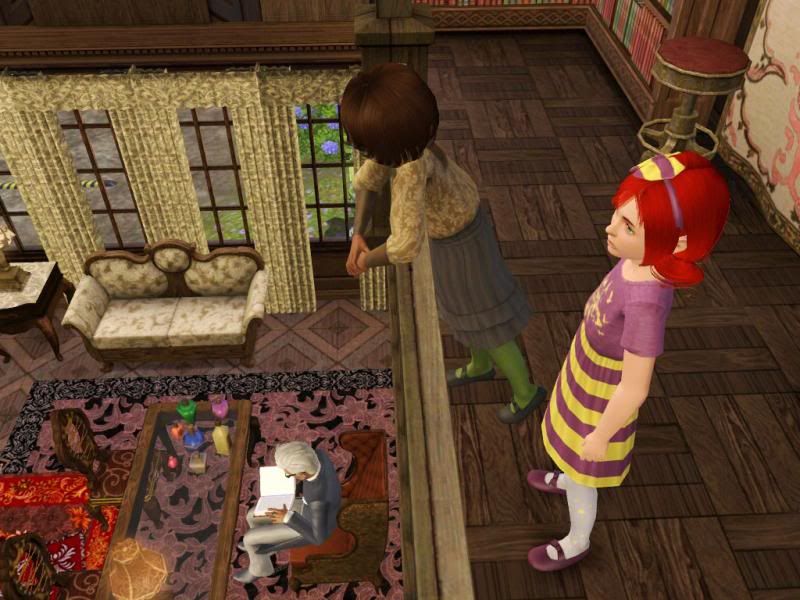 "Gramps, I brought a friend over! Can she stay for tea?"
Zoey heard a faint sigh, which was all Ruth needed for conformation. Grabbing Zoey's hand, she whirled around and led her down the stairs.
"See Gramps, I even asked first this time!" Ruth laughed. "Don't say I never listen!"
"Anyways~" Ruth continued, slinging an arm over Zoey's shoulders, "This is my friend Zoey Ink! I've talked about her before, remember? Zoey, say hi!"
"Um, pleased to meet you, Sir."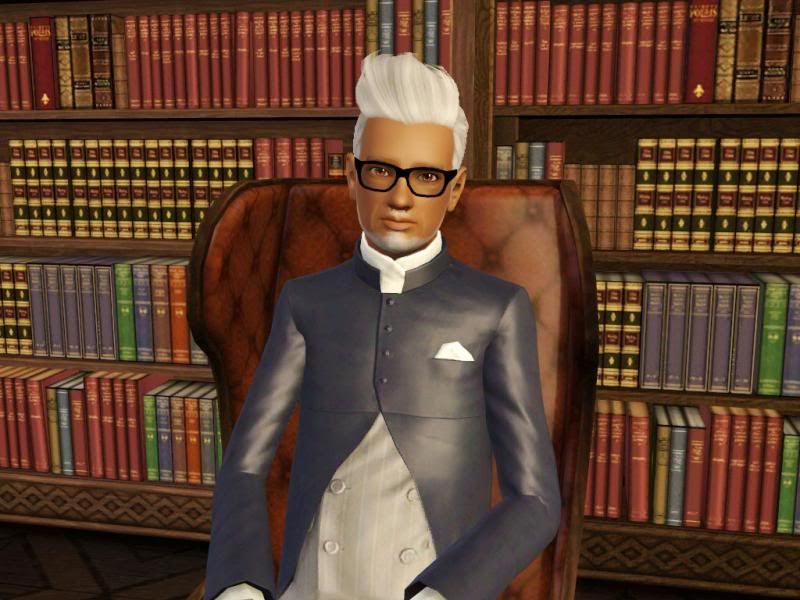 The man regarded the two girls coolly. He seemed like a very stern man, dressed in antiquated clothes like Ruth. After a moment or two, he looked away.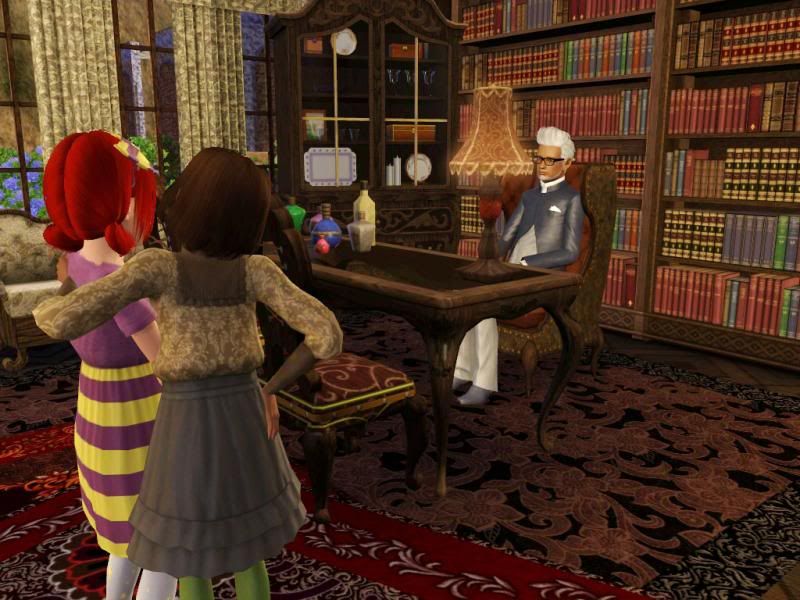 "Just be quiet - I'm trying to study."
"Sure thing!! C'mon Zoey, the kitchen's this way..."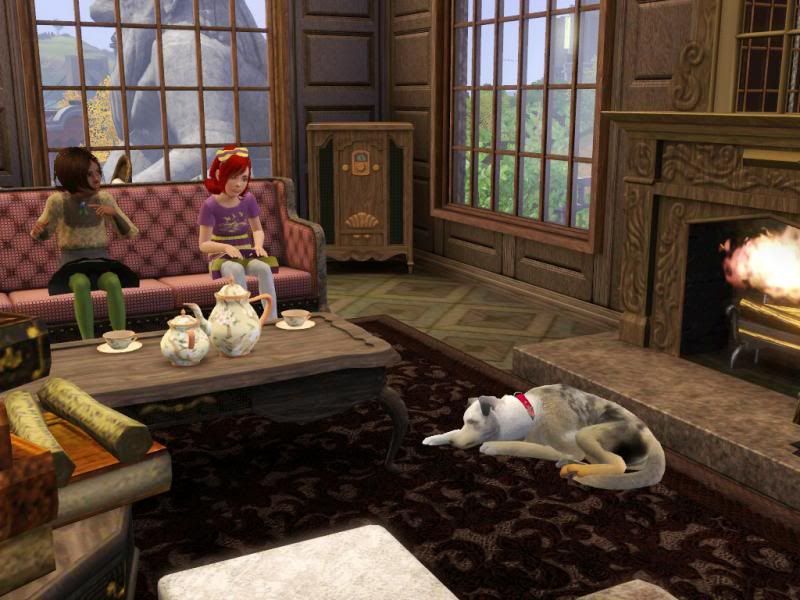 A delicious tea and cookie interlude later found Zoey on the couch with Ruth, chatting animatedly away. It turned out the two had a lot in common! Zoey wondered why the two had never spoken before.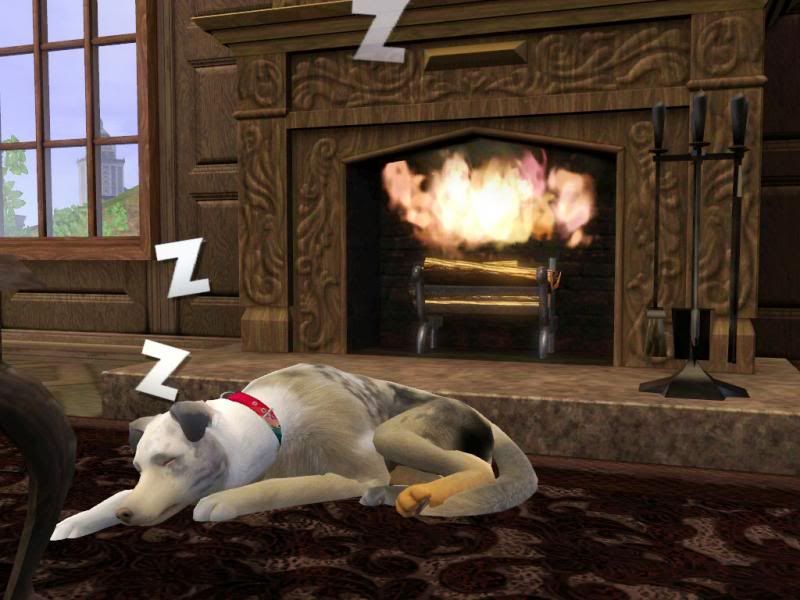 Pippa, for her part, had gorged herself on stale biscuits and was sleeping it off in front of the fireplace. The fire was rarely lit back home (September compulsively put it out), so she basked in the opportunity.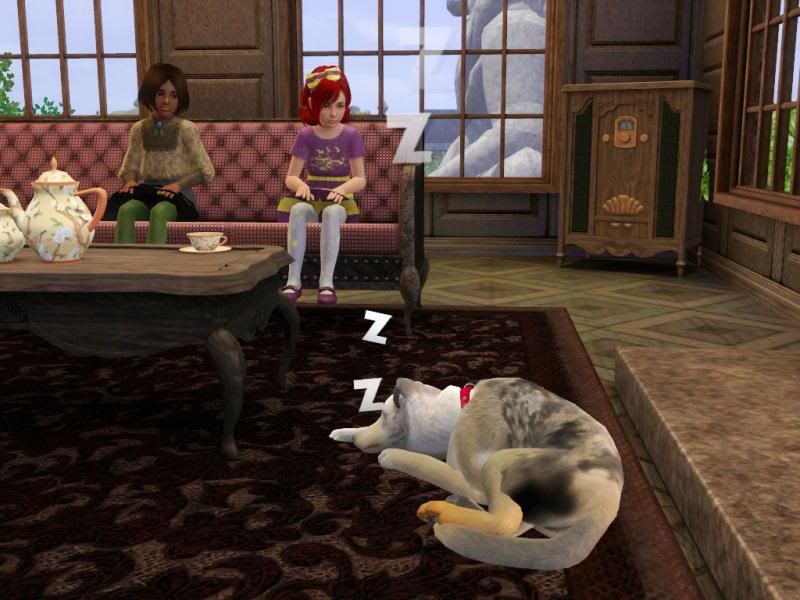 "Heh heh, she sure is at home, isn't she?" Ruth laughed.
"Yep! It helps that your house is so cozy." Zoey complimented.
"What, this old place? More cramped than cozy, I'd say."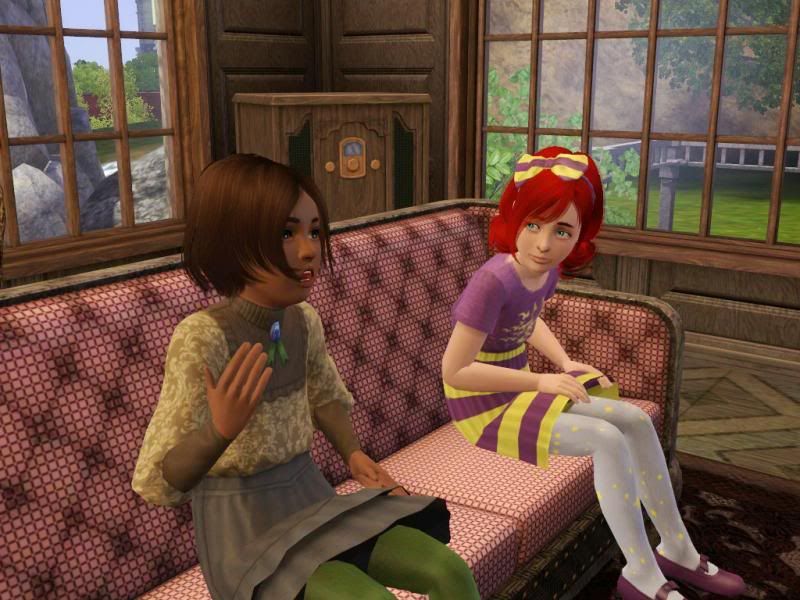 "Gramps is soooo into all this old boring stuff. Old books, old clothes, bleh! No one ever wants to come over 'cause this place reeks of the Victorian era." Ruth lamented.
"Aww, don't say that! I think it's cool!" Zoey replied earnestly. "I'd definitely come over again!"
Ruth paused. "Well, you don't have to be that nice. I know I'm pretty weird!"
"Not any weirder than the next person, I think. We have a lot in common, actually! We should hang out at school more!"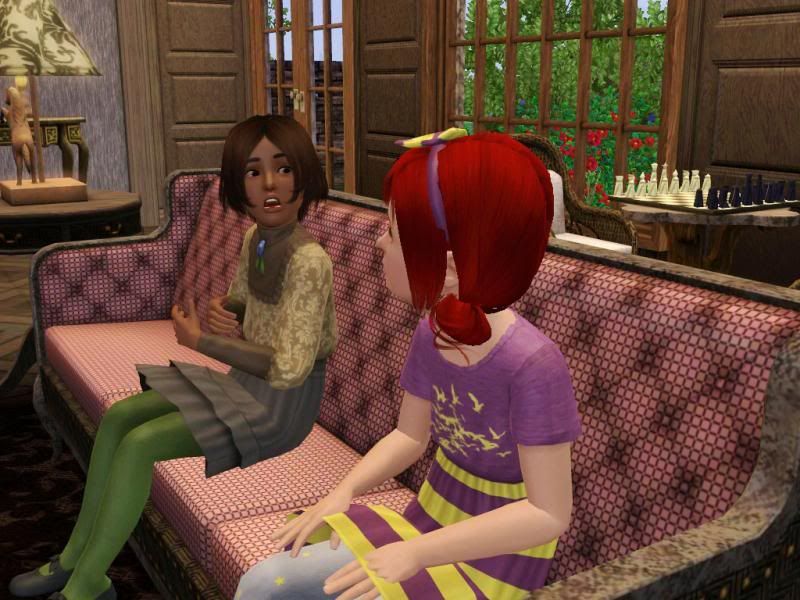 "Zoey, you're too nice! That's why you're popular. You don't wanna ruin that for someone like me. 'Sides, come middle school I'm going to a private school anyway! No more muggles for me."
"No more what?"
"Never mind."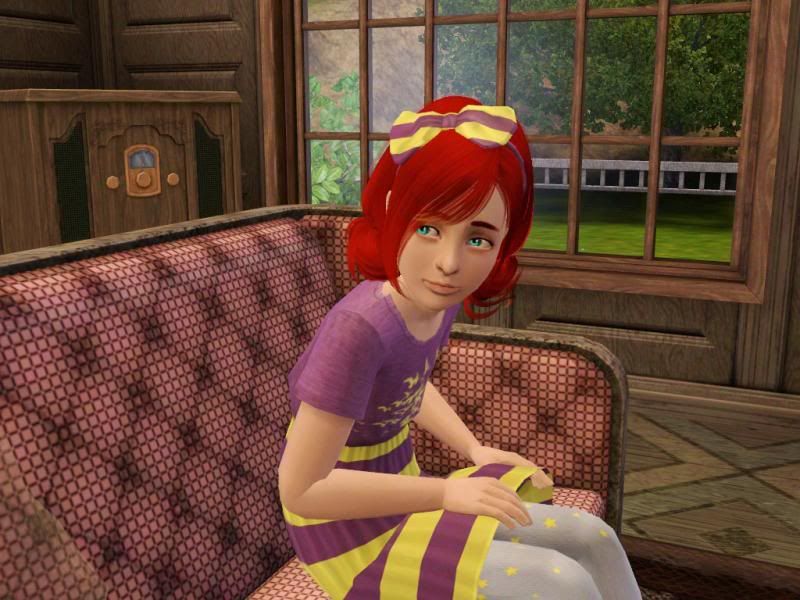 "Um, well I don't know anything about 'mugglets' or whatever, but we're only in the third grade! We've got plenty of time to be friends! And we can still be friends after you transfer too!"
"Aww, thanks~! You're really nice, Zoey. Who knows - maybe you could transfer with me!"
"Um, I'm not so sure I'm cut out for fancy private schools."
"Oh, I don't know about that."
"Huh?"
";)"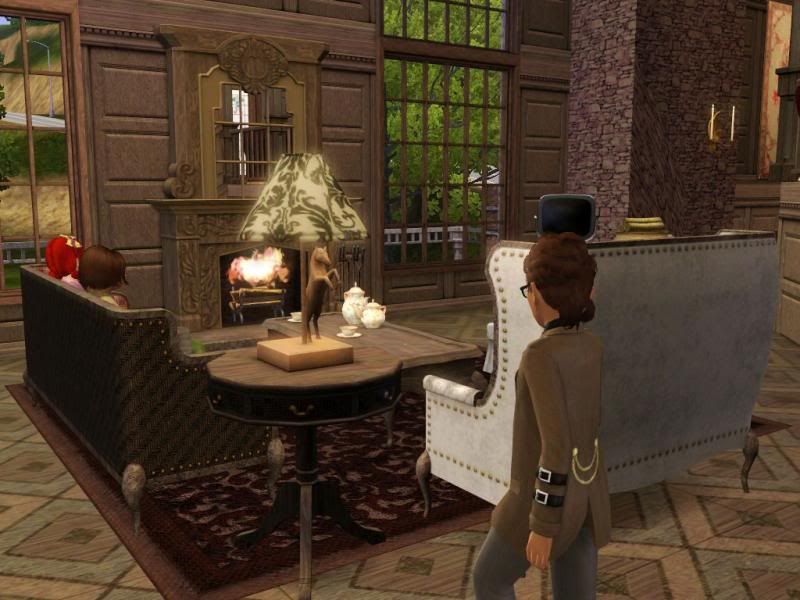 But for every parade, there's someone doing a rain dance.
"Hey! Ruth, what do you think you're doing?!"
"Ugggggh, go away Zeke!"
Zoey was struck with how alike the two looked! But Ruth didn't have a brother, as far as she knew...
"Um...hello?" Zoey ventured.
"I'm not talking to
you
." the boy replied rudely. "Ruth, you know Grandfather doesn't like visitors."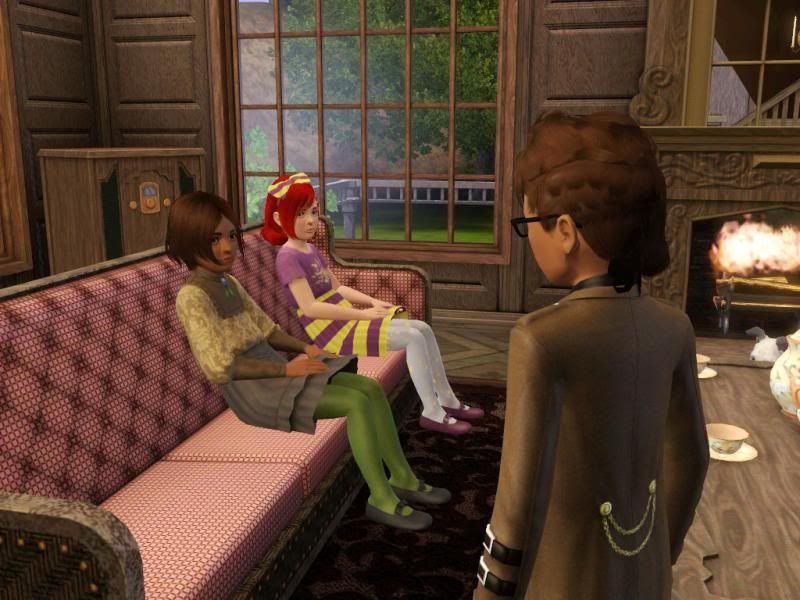 "I already talked to Gramps, ya doof! Now quit bothering us." Ruth replied.
"It's time for our afternoon lessons anyway! It's time for her to leave."
Ruth rolled her eyes dramatically and slid off the couch with a belabored sigh. "Sorry Zoey - Mr. Wet Blanket here is right."
"I-it's okay! I should probably get going anyway. Sorry, um..."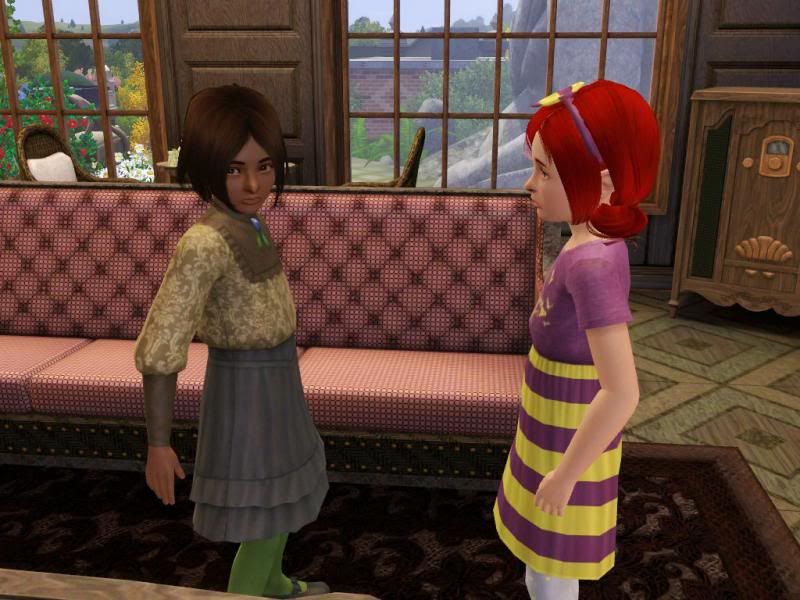 "Don't apologize to that loser!" Ruth intervened. "That's Ezekiel, my cousin and a professional bore. Be thankful he considers himself 'too good for the peasants' at the public school."
"Heh heh!"
"Hey, listen - I usually eat lunch in the blue hallway! I'll save you a seat tomorrow, okay?" Zoey offered.
"Aww, Zoey, you're the best~! I'll be there for sure!"
New friend secured! You could almost see the person-person-plus sign sparkling overhead, Zoey gaining 500 LTP, and immediately rolling a new wish to 'Become Good Friends with Ruth Mathias'. But you don't actually see any of those things, because that would be ridiculous.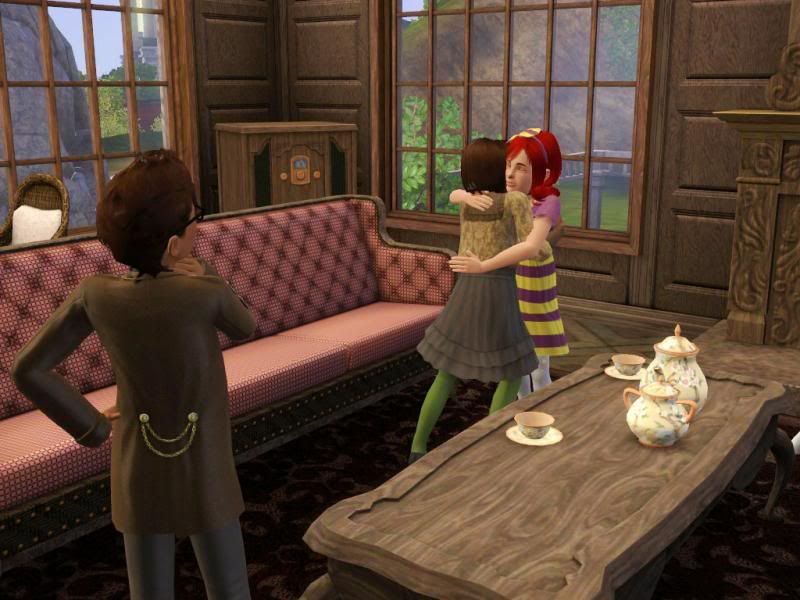 "Hurry up!"
"Shut up Zeke! I am deep in the throes of a friendly hug, I cannot hear you now."
Yes, let's click his interruption out of the queue before the whole interaction drops. And let's move onto the next story before this gets too meta and the fourth wall tips over from all this leaning we're subjecting it to.
--- --- --- --- ---
Now that Alex was of the proper age to use it, he found himself spending a lot of time researching what Amélie had mysteriously dubbed the "Alchemy Station". Alex found the name fairly ridiculous - it didn't even transmute gold - but some of the potions described within were worthwhile...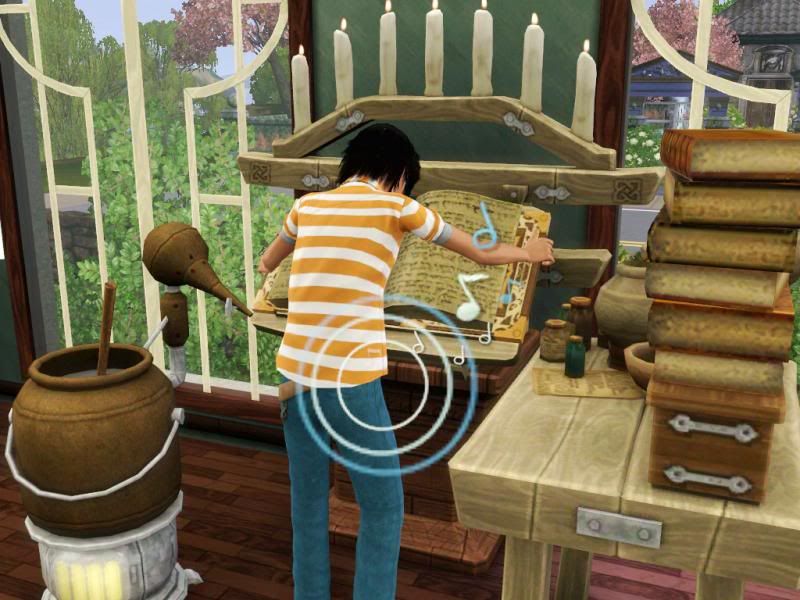 But he was not without his distractions.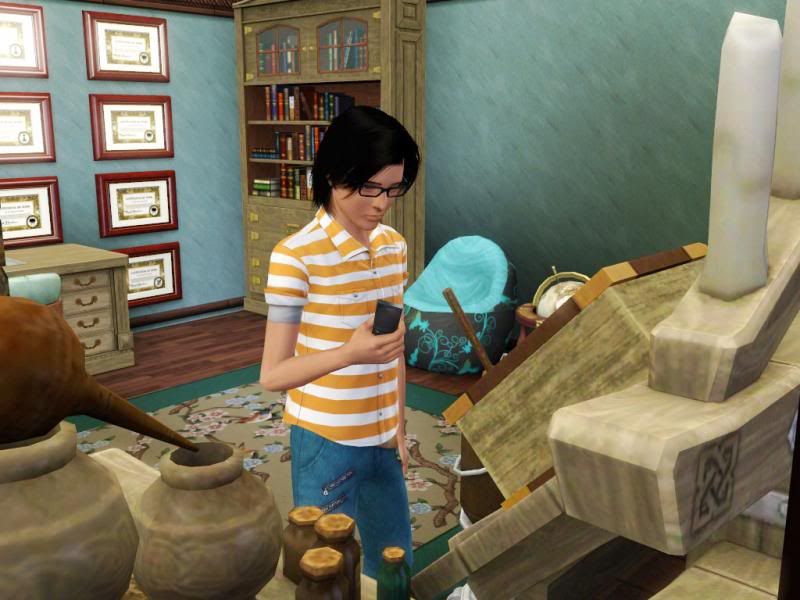 "Dylan...? What could he want?"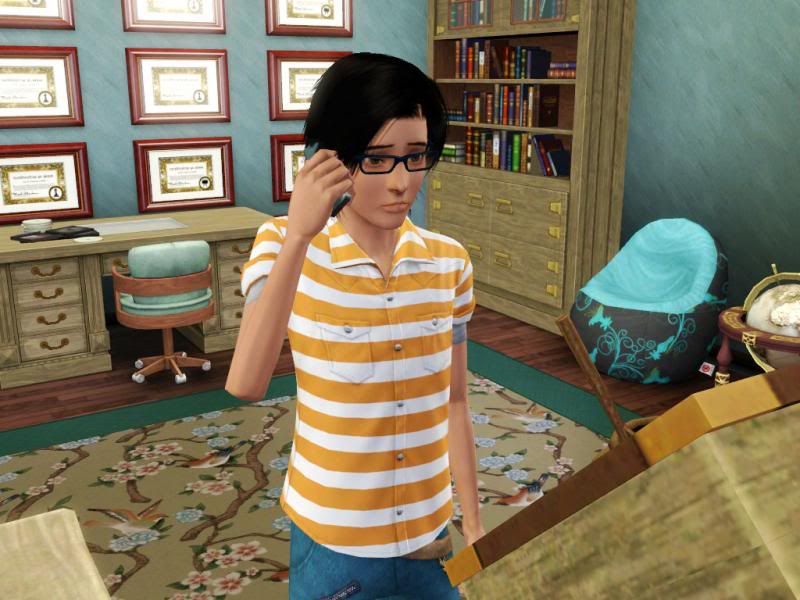 "Yeah?"
"Are you free?"
"As free as I usually am."
"So that's a yes, then. Listen, meet me downtown. I want to eat something spicy."
"What, now? You realize what time it is, right?"
"...I know. Sorry, never mind."
"Calm down, I never said I wouldn't come. See you in twenty minutes."
Alex knew he shouldn't be giving Dylan a hard time. After all, he only called Alex up like this when something bad had happened. Unfortunately, these calls were more frequent these days.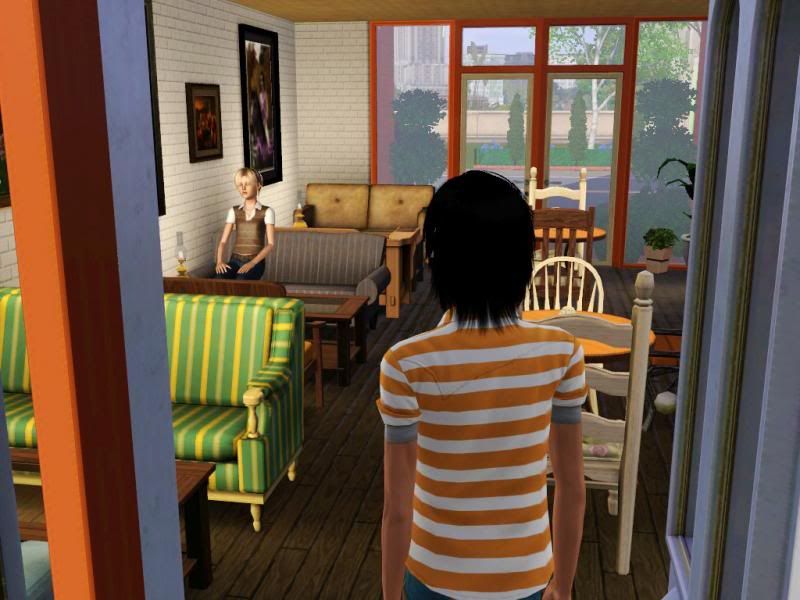 Dylan usually neglected to tell Alex
which
food joint they were supposed to meet at, but Alex had gotten pretty good at guessing. There was only one place in St. Claire that sold Sriracha Soup - a kitschy little place with mismatched furniture and bright colors.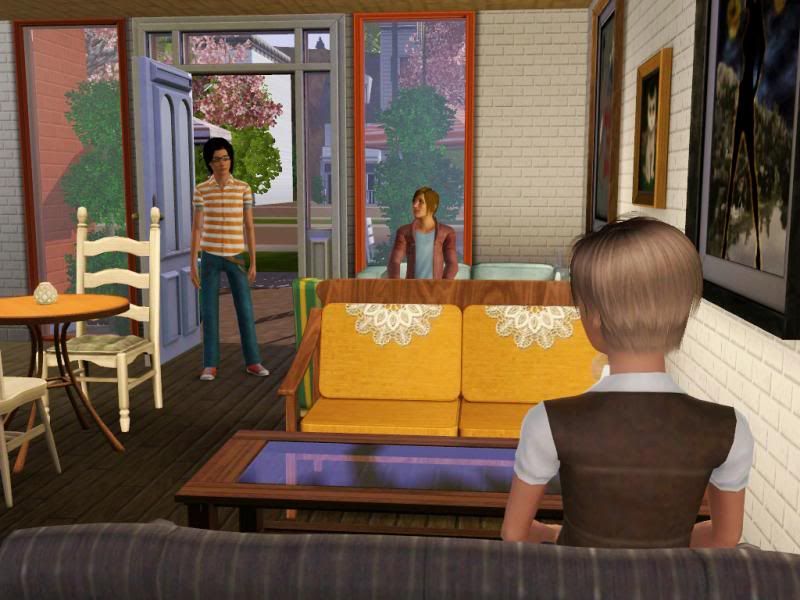 "See? I only took nineteen minutes. I'm getting better at this game." Alex said conversationally.
"Guess that means I should step it up, huh?" Dylan chuckled.
Alex pondered whether he should ask what was wrong right away, but Dylan sprang up from his seat before Alex could start.
"God, I'm starving! C'mon Lex, let's get in line."
"Let's see...Sriracha Soup with chili flakes, please." Dylan said. "Ghost chili, none of that jalapeno b.s."
The cashier looked mildly concerned, but took down the order anyway. "And you?" he said, addressing Alex.
"Curry, I guess."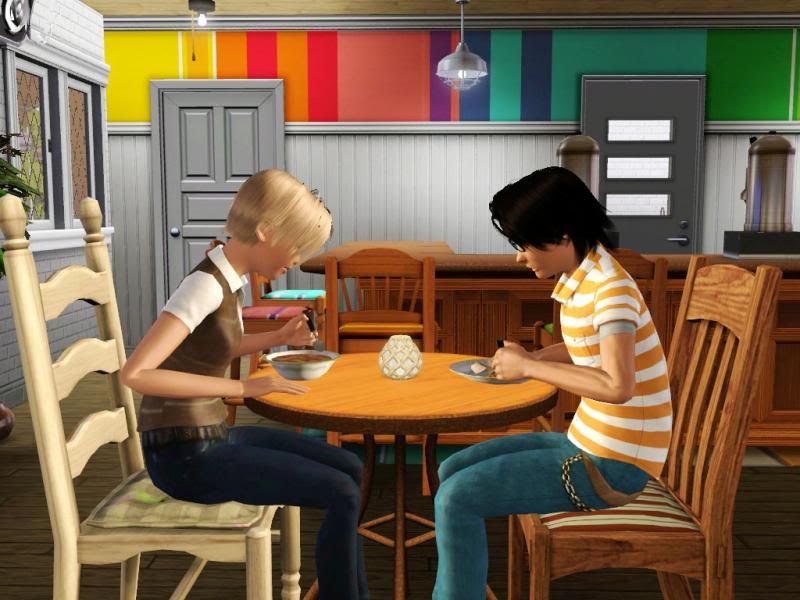 The two scarfed down their meals, trying to outlast the other without water to soothe the spice.
The conversation was mostly superficial, with Dylan doing most of the talking as usual. Alex let him, knowing that he'd bring up the real reason for this eventually.
"So that's how the interview with the dean went! Front page of the school paper for sure. I'm telling you Lex, investigative journalism is my calling!"
"Well, you
are
pretty nosy."
"Like you can talk!"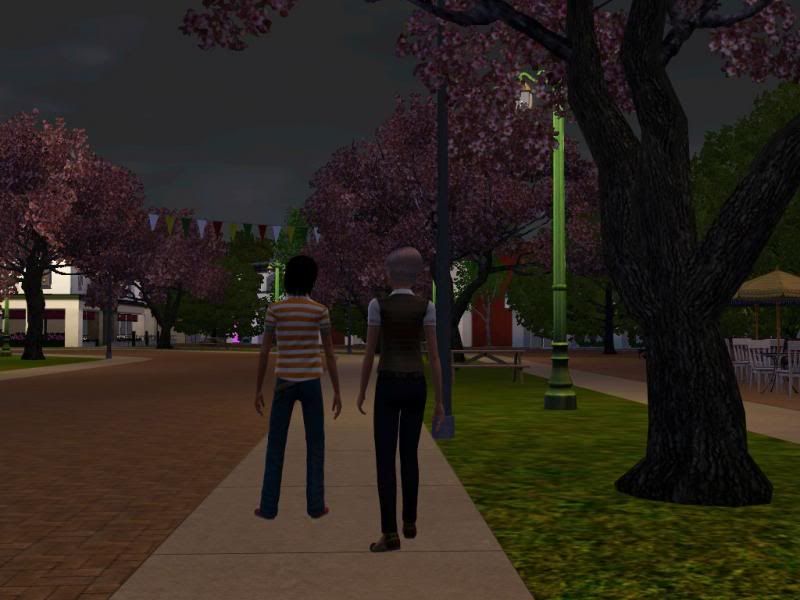 The two of them were ushered out of the restaurant after half an hour of loitering, leaving them to walk down the street under a cloudy sky. It was a Thursday evening and hardly anyone was out and about.
"Ah, that was refreshing!" Dylan said. "Nothing like a little mouth deadening spice."
"So do you want to talk about it?"
Dylan didn't turn back towards Alex, merely altering his course towards a nearby picnic table.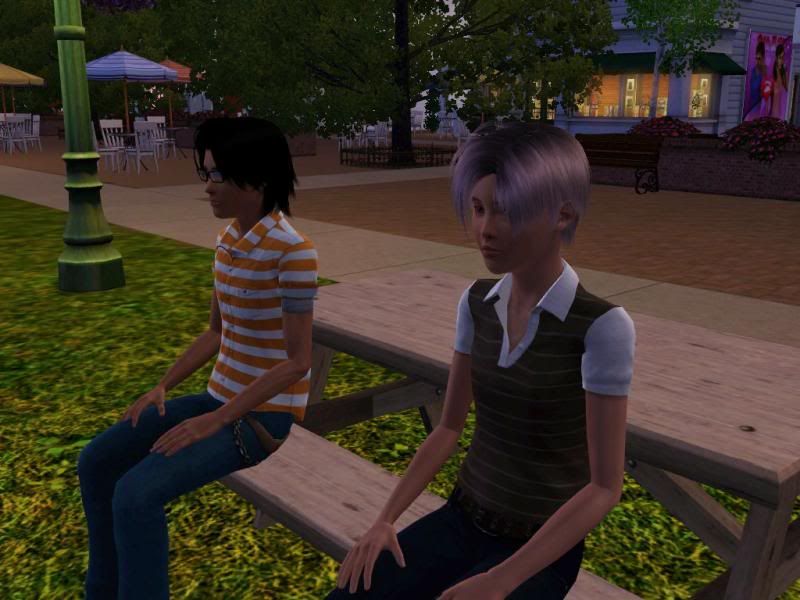 Once the two of them were seated, Dylan finally said, "Mum's trying to get me into an all girls' boarding school."
"Ah." Well, that would certainly explain his dour mood. "The one Delilah goes to?"
"Yeah."
"What does your dad think?"
"Dad's on my side, as usual. And so is Delilah, only because she would die of embarrassment if anyone knew we were related." Dylan laughed sardonically.
After a moment of consideration, he continued, "I know that, as far as guys like me go, I'm pretty lucky. Everyone's been pretty accommodating, and I think I've got 90% compliance on the whole male pronoun thing. But then there's days like this."
"You know you don't have to put up with her shit, Dylan." Alex said fiercely. "You're you, and there's nothing wrong with that."
Dylan laughed again, but it sounded more sincere this time. "Yeah, yeah. I know you're in my corner. Thanks."
His voice wavered a bit on the last word, and he reached out to hold Alex's hand. He met him halfway, and they sat quietly for a while longer. Although the sky was heavy and gray, it never did rain.
Dylan finally got to his feet and announced, "Okay, enough of that! I've got more important things to worry about!"
"Too important to visit? Pretty sure my mom's bringing home cheesecake tonight."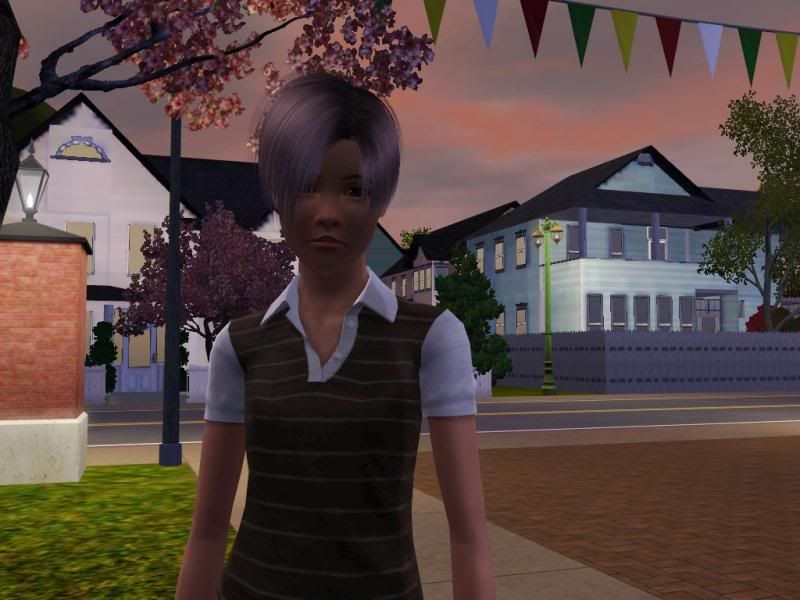 Dylan smiled. "Like I could ever miss food at your house! C'mon, let's go!"
--- --- ---
Kira was still at work, so Alex and Dylan decided to hang out in his room for a bit. This was pretty typical for them, but today would prove different.
"Wait. Do you hear that?" Alex said, pausing.
"What?"
Alex motioned for Dylan to lower his voice, then whispered, "Jude's home. I think he's on the phone. I'm going to listen for a bit."
"Wait - Jude? The brother you think is involved in some sketchy stuff?"
"The very same."
"Dude, eavesdropping is probably not a great idea here..."
"C'mon - are you a journalist or not?"
"Ergh..."
"I honestly thought it would be done by now, James."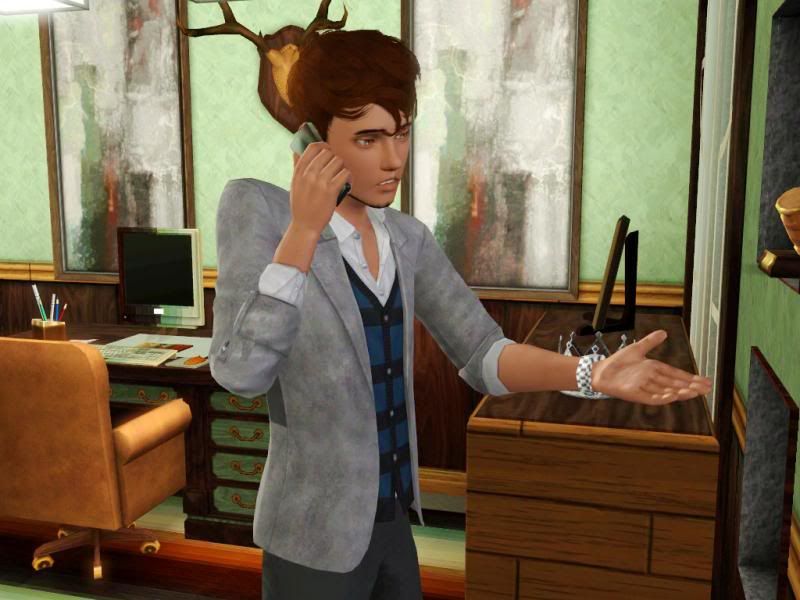 "Yes, I
know
it's hard to do this with the Clubs everywhere, but you need to trust me."
"..."
"No, we're not going to Tobias with this. It's a side project, remember?"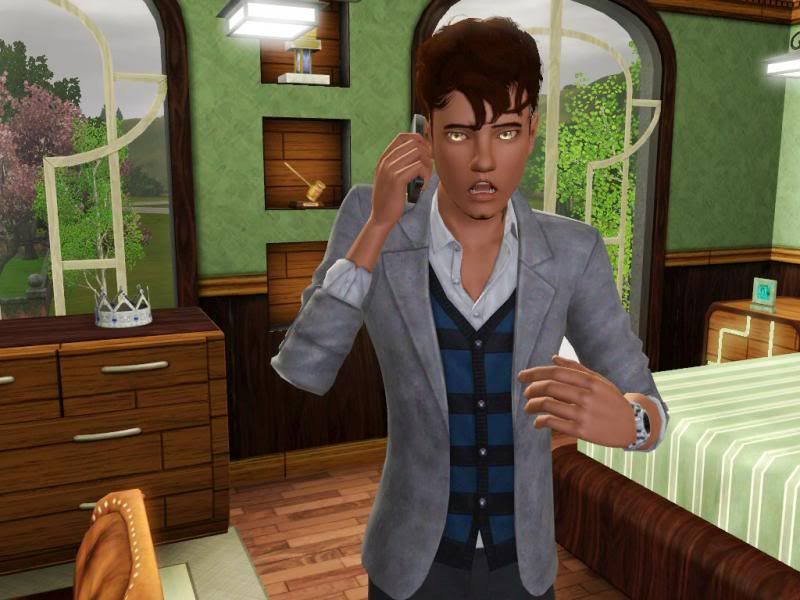 "..."
"What do you mean you can't find her? She's eight years old, there's not too many places she can be. Check the school, catch her between the bus and her house."
"..."
"I told you - this is the only way to get to him. He won't accept our bribe, so...yes, I know this is Clubs territory! Shut up with that already!"
"..."
"I...wait."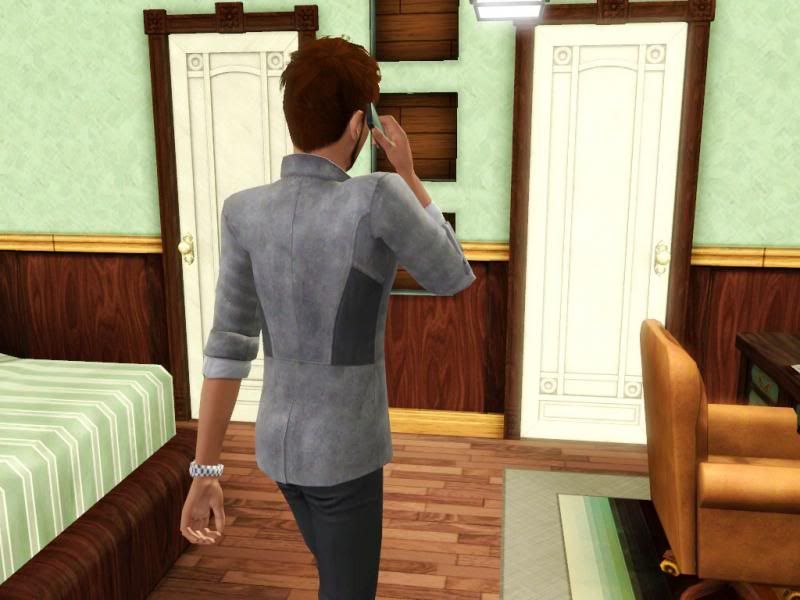 "No, I thought I heard something. Hold on."
The hallway was empty, but Jude knew it hadn't been a few moments ago. He wasn't stupid - as a vampire, he could hear panicked breathing just around the corner. It was probably just Zoey...or Alex and his nosy friend.
Jude weighed his options. The situation with James was time sensitive, and he really didn't have the time to fight with his brother. Besides, even if Alex overheard, what could he do? There were no names, no locations, nothing to be a lead.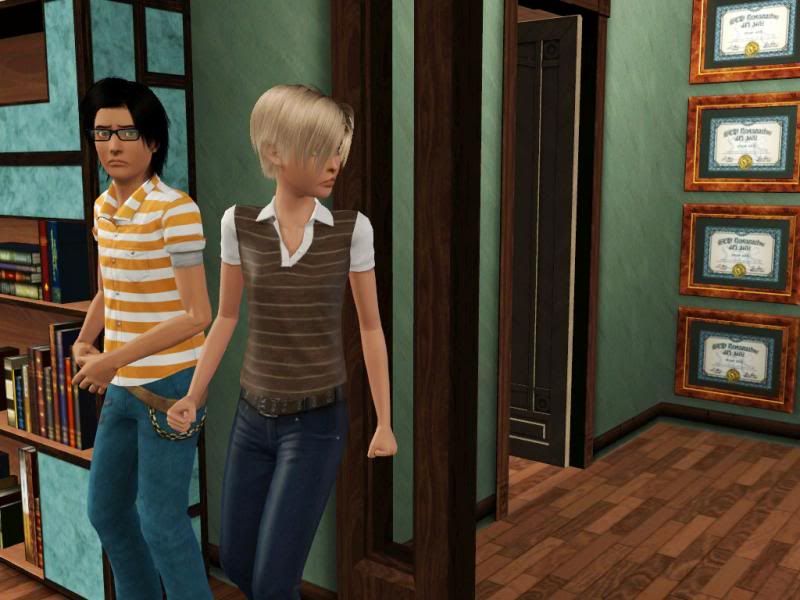 "Yeah, it was nothing James." Jude murmured. "My siblings are a pain in the ass. I just have to watch what I say..."
With that, he turned and reentered his room, shutting his door behind him once more.
"Wh-what the hell was that?!" Dylan whispered. "Was he
seriously
talking about kidnapping someone?!"
"I..."
"Lex, what the hell is your brother doing?!"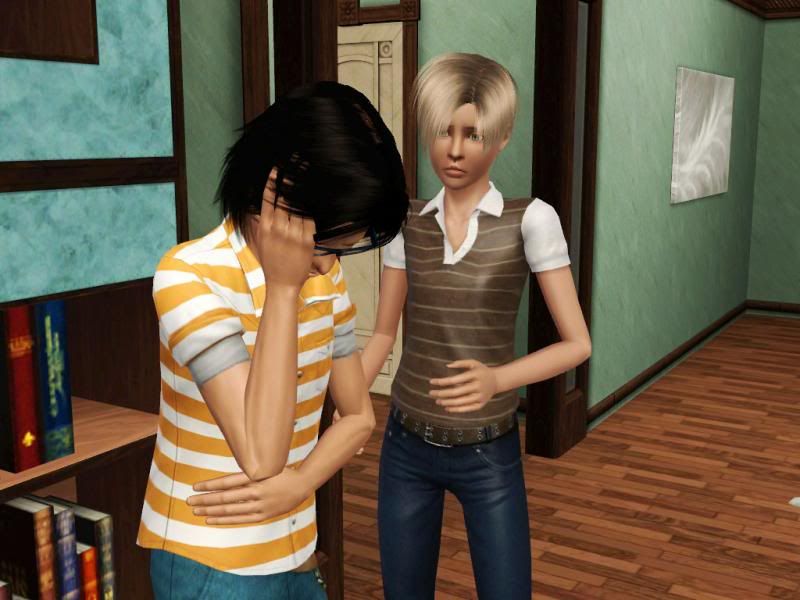 Alex sighed, dropping his head into his hand. "I was afraid it would come to this. With Mom and Dad so lax, always turning a blind eye...I knew I'd have to do this myself."
"Do what?"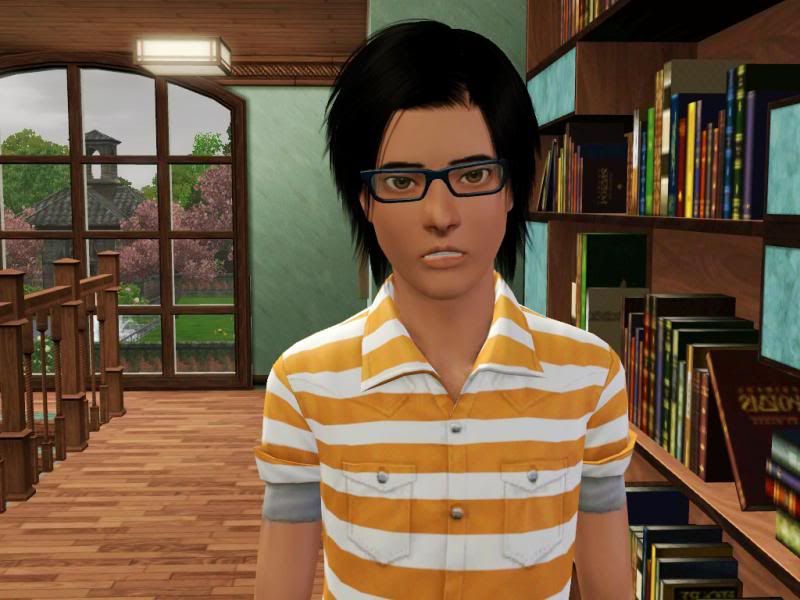 "Listen, Dylan. Let me start by saying that you have no obligation to help me, okay? This could get dangerous - really dangerous. He's my responsibility, not yours."
To his surprise, Dylan laughed. "Well, when you put it like that, how could I refuse?"
"Dill, I'm serious-"
"And so am I. Look, we stick together, okay? I'm willing to fight an evil vampire with you."
"Besides, a little danger is the status quo for my line of work!"
Alex hesitated, then nodded, motioning for Dylan to follow him.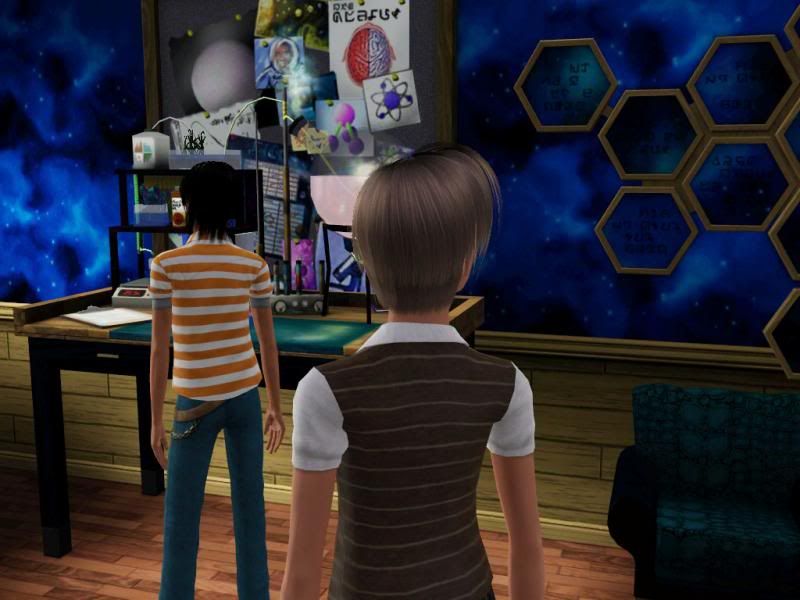 "There's a reason I've been spending so much time at the alchemy station." Alex said, rummaging through the drawers of his lab table.
"That weird thing in the study?"
"Yes. Truth is, I've been trying to identify something for some time now. I don't know where it came from, but it was entrusted to me and me alone. I think this is what I was supposed to use it for."
"What are you talking-"
"-about...? Whoah. What's that?!"
Beside Alex sat a glass vial of softly glowing blue, swirling in a state between liquid and gas.
"A bottle of potent cure. It used to be very rare twenty years ago, and it's still hard to come by these days. My father very likely had to take something of this nature to restore his humanity."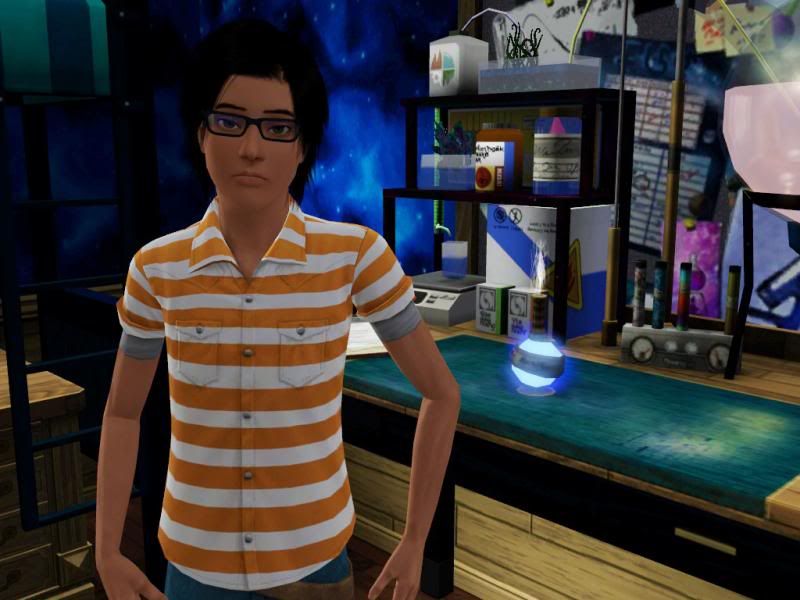 "And, if I'm right, it's the only hope we have against Jude."
--- --- --- --- ---
See, I told you that Amélie's gift would show up eventually! Alex doesn't quite remember it was her, but he's a smart kid. She knew he'd figure it out.
Next chapter is the last of the generation! Zoey will do some magic! Alex will confront Jude, maybe! September and Sen may actually encounter aliens! Who knows what the hell Sophie will do! Jude will do some actual villainy and not go to an expositional meeting! Whoa!
Also, Abel and Kira are
five days from elder
and I'm going to cry. What happened to my little teen pop stars?! ;^;
Okay, that's enough out of me. To everyone who's stories I read, I'm sorry for not commenting! But trust me, I'm reading. I just...get ashamed to show my face when I don't update for so long... XD
Current Mood:
tired